Something I am working on for a little while now: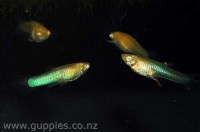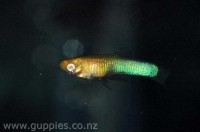 Powered by FotoGalerie
Theses are the first Albino Japan Blue in New Zealand.
The origin was a single male Pink Lady Guppy from Stu in Wellington that I crossed with a female Red Chest Endler. The result of that crossing is the classic Japan Blue (JB) strain I keep now. I crossed one of the JB males out of this strain with a female of a very big Albino strain I got from Zane years ago. Out of their offspring, one male and one female got put together and within their offspring, a few Albino JB showed up.