total numbers of entries : 109
Glass Belly Guppies
2015-01-01
New photos from the latest generations of Glass Belly Guppies are online. Click HERE or go to Experiments => Glass Belly Guppy to have a look at them.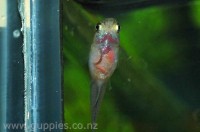 Fishroom - New section added
2014-12-24
A little update:
A section on the racks for the 36 tanks has been added.
The Glass-Belly Guppies are doing fine. There are 35 fish with partly missing silver skin out of 60 fish in one drop. For the first time there are now some males with  partly Glass-Belly as well. Two of those are together with her mother to speed things up. Once the young ones are 4 month old I will put the best female together with the the best of her brothers. Either crossing should bring very good results in the next generations - hopefully :)
Because I'm concentrating on the Glass-Belly Guppies I had to discontinue some  of my strains. I gave up the Black Lace, the Blond Pink and the Blond Magentas. Also reduced numbers in the Albino Swordtails.
Fishroom - Added another section
2014-12-05
Yup, just added another section of the fishroom-build. Have a look HERE
total numbers of entries : 109