Hermaphrodite
2015-01-02
At the start this fish looked like a typical female. After a while she was showing more and more colour and developed a gonopodium. Now "she" even displays to other females.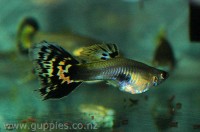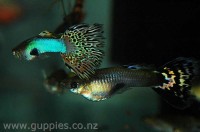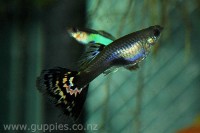 Powered by FotoGalerie
Red Chest Blond & Albino
2015-01-01
Another experimental strain: Red Chest Blond and Albino.
Nice looking fish, will be even better with Magenta. That's the plan for the next 6 month.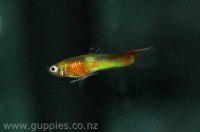 Japan Blue
2015-01-01
The first generation (F1) between a Pink Lady Guppy and a Red Chest Endler produced very nice looking fish. They are already very close to the original Japan Blue Guppy and hopefully the next generations will improve the strain. At the moment I have listed them under the Experiments - check it out for pictures :)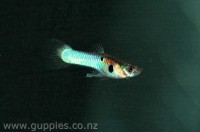 Glass Belly Guppies
2015-01-01
New photos from the latest generations of Glass Belly Guppies are online. Click HERE or go to Experiments => Glass Belly Guppy to have a look at them.